HEATING REPAIR & INSTALLATION SERVICES
While the heating system in your home is often out of sight and out of mind, when the furnace, heat pump, or boiler fails, fixing it becomes top of mind. Whether your home's heating system is in need of repair or replacement, contact the team at Wm. Henderson. Our skilled HVAC technicians provide heating repair and installation services to homes in areas of Pennsylvania such as West Chester, Havertown, New Castle, Broomall, Philadelphia, and Ardmore. We will work tirelessly to bring warmth back to your home.
FURNACE REPAIR SERVICES
Gas furnaces offer some of the highest efficiency ratings when compared to other home heating options. With a lifespan between 15 and 20 years, a gas furnace will work to efficiently heat your home for years to come. We offer gas heating repair, tune-up, and installation services near you in Pennsylvania.
One of the most popular options for heating, gas furnaces come in two main categories: conventional and condensing. Learn more about what these categories mean and how they might work for your home.
AVAILABLE HEATING SERVICES:
TYPES OF FURNACES
We have created a list of the types of furnaces for homes.
CONVENTIONAL GAS FURNACES
Conventional gas furnaces burn gas through a single heat exchanger. The heat that remains then escapes safely through a chimney to the outdoors.
CONDENSING GAS FURNACES
Condensing gas furnaces utilize a secondary exchanger which collects the excess heat and uses it for heating the home. These furnaces have a higher efficiency rating when compared to conventional gas furnaces.
ELECTRIC FURNACES
Electric furnaces use electricity to heat coils within the furnace system. Once the coils heat up, the system pushes air through the coils, heating it and sending it throughout the home.
Electric furnaces tend to be cheaper to purchase than gas furnaces and are less expensive to install. They often last a few years longer than gas furnaces with an average lifespan of 20-30 years. But, one thing to consider when making a decision for your home is the cost to run the furnace. Electricity is much more expensive than natural gas, meaning your monthly heating bill will be higher with an electric furnace.
GAS FURNACE OPERATING TYPES
Below is an outline of the operating configurations of gas furnaces.
SINGLE-STAGE GAS FURNACES
We offer heating and air conditioning repair services to homes near you for single-stage furnaces. This type of furnace features a single gas valve that opens and closes allowing gas to flow at a single rate. Operating on a single, high flow rate, these types of furnaces are less efficient than two-stage systems.
TWO-STAGE GAS FURNACES
Two-stage furnaces have two capacities in which they operate: low and high. To conserve energy, they operate on low most of the time and only kick into high when temperatures lower significantly. Operating in this way means two-stage furnaces are more efficient and offer consistent heat flow.
MODULATING GAS FURNACES
With the highest efficiency ratings available, modulating furnaces continuously adjust the gas output based on up-to-the-minute reports on the temperature within the home. This continual monitoring and adjusting provide consistent heat throughout the home. Our team of heating contractors is able to replace an outdated system with a modulating gas furnace or perform a heating repair on this type of system.
BOILERS
Boilers are closed systems consisting of a heating element that heats water, distributing it throughout the home. WM Henderson offers boiler and heating repair or installation services to homes in West Chester and other areas of Pennsylvania. Homes with boilers can distribute heat with radiators, baseboard heating units, convectors, or radiant heat systems. Give our team a call by phone to book a heating repair appointment.
TYPES OF BOILERS
We have created a helpful list of the types of boilers for homes.
STEAM BOILERS
Steam boilers rely on a heat exchanger to heat the internal water past the boiling point, distributing steam throughout the system as a means to heat the home.
HOT WATER BOILERS
Hot water boilers also utilize a heat exchanger and heat water to a high temperature, but not to boiling. This heated water is then distributed throughout the home where it passes through radiators, sending heat into the home.
After deciding between steam or hot water boiler, next you must decide which fuel source is best for your home. Your options include:
Natural Gas
Electricity
Oil
GAS BOILERS
Gas boilers are equipped with a pilot light or electronic ignition system that is utilized to ignite natural gas and oxygen. Once the gas valve is opened, the incoming natural gas will cause flames to form in the gas burners of the boiler. The flames are maintained in a sealed compartment that is designed to prevent a gas leak in your household.
Next, the heat from the flames in the gas burner will be transferred to the heat exchanger in the gas boiler. The heat exchanger is engineered to disseminate the heat energy to the cold water in the boiler. When the water in the boiler is a sufficient temperature, it will be circulated to your household through radiators or baseboard heating systems.
If you are having a problem with your gas boiler, call our team of licensed contractors or book an appointment online. We offer trustworthy heating and air conditioning repair services for homes in areas of Pennsylvania such as Broomall, Springfield, Newton Square, Norristown, West Chester, and Drexel Hill. Our team has the tools necessary to help you fix or replace your gas boiler.
OIL BOILERS
Oil boilers feature a secure reaction chamber that is designed to maintain the flames that are produced during the combustion process. Once a sufficient amount of heat is produced, it is transferred to a heat exchanger that is designed to increase the temperature of the water in the boiler.
Oil boilers are less popular because they need to be connected with a massive oil tank. In addition, the tank will need to be refilled with oil a couple of times during the winter season. To avoid the inconvenience of scheduling oil deliveries, a majority of household owners decide to invest in gas boilers.
ELECTRIC BOILERS
If you do not have access to natural gas in your city or suburb, an electric boiler is an excellent way to heat your home in the winter. Electric boilers feature a set of heat exchangers that are designed to transfer heat to cold water. While electric boilers are safer to operate than gas boilers, they cost more to operate each month.
HOW A BOILER OPERATES
Boilers are engineered to transfer heat energy to cold water. This type of system is utilized to distribute warm air and water in households. Boilers utilize natural resources such as electricity, gas, and oil to develop heat. Once the water in a boiler is hot, it is circulated to each room in your house through a network of radiators. On the other hand, the warm water can also be diffused by baseboard heating units, radiant heat systems, and convectors.
If you have radiators on your property, the water will be circulated to each area of your house through a set of water pipes. Once the hot water arrives at a location, the heat is transferred into the air. As the water in the pipes of your radiators become cold, it is dispersed back to the boiler to be heated. The water will travel between the boiler and radiators until the temperature on the thermostat is reached.
Our professional technicians provide innovative heating repair services near you in areas of Pennsylvania such as Wayne, Havertown, Broomall, and Drexel Hill. Our team is knowledgeable and will perform a variety of tests to resolve the issues in your boiler. Give our technicians a call by phone at (484) 402-6043 to receive help with a broken boiler.
Tips & Insights: What Are the Differences Between Air & Ground-Source Heat Pumps?
BENEFITS OF GAS BOILERS
Below is an outline of the advantages of investing in a gas boiler for your house.
NO STORAGE TANKS
Unlike oil boilers, a gas burner is integrated to a supply of natural gas that is provided by your city or municipality. To maintain an oil boiler, you are required to install a large storage tank on your property for the oil. Once the oil in the tank becomes low, you will need to call a supplier to deliver oil for the boiler. If you forget to refill the tank with oil, the boiler will be unable to circulate warm air throughout your household in the winter. The easiest way to keep your house warm is to switch to a gas boiler.
ENVIRONMENTALLY FRIENDLY
The combustion of natural gas releases less contaminants into the air when compared to oil and electricity. On the other hand, electricity is developed by igniting harmful fossil fuels such as coal. To protect the environment, you should consider switching to a natural gas boiler. This will help you save money on your utility bills each year.
ENERGY-EFFICIENT
Natural gas is an efficient type of fuel that is utilized by boilers, water heaters, furnaces, and stoves. If you're comparing different types of boilers, we recommend picking a gas boiler because of its energy-efficiency benefits. Gas boilers burn less fuel to create heat when compared to electric and oil boilers. In addition, the total cost of natural gas is lower than oil and electricity.
BENEFITS OF ELECTRIC BOILERS
We have compiled a list of the advantages of installing an electric boiler in your living space.
MINIMAL NOISE
Electric boilers are equipped with less moving parts when compared to gas boilers. Since this type of boiler has less pipes and components, it produces less noise when it's activated.
EASY TO INSTALL
Gas boilers are connected to a flue or chimney to distribute natural gas. To properly install a gas boiler, a licensed technician will be required to seal the pipes and connections to prevent a natural gas leak. On the other hand, an electric boiler does not have exhaust pipes and gas chambers.
Electric boilers are usually smaller than gas and oil boilers. The compact design of this type of boiler makes it easy to install in various types of locations. If you decide to purchase a gas boiler, it will need to be installed on an outside wall to ensure a safe and efficient distribution of natural gas. We offer heating repair services to households in areas of Pennsylvania such as Broomall, West Chester, Ardmore, Havertown, and Upper Darby.
If your home's boiler is in need of repair, or you're thinking of installing a boiler in your home, call the heating contractors at Wm. Henderson. Our team of skilled HVAC technicians has the tools and knowledge needed to perform all types of heating repairs and replacements.
HEAT PUMPS
Heat pumps use a compressor and circulating refrigerant to pump heat from one place to another. Within this closed system, heat is extracted from outside sources and pumped indoors. While heat pumps require less maintenance and have a lower running cost than traditional furnaces, they come with a higher upfront cost and require significant work to your home and property.
If you're interested in learning more about installing a heat pump in your home, contact Wm. Henderson. Our team provides heating repair and installation services near you.
TYPES OF HEAT PUMP NOISES & HOW TO FIX
BANGING NOISES
If your heat pump is producing a banging noise, this is a sign of an issue with the fan. The source of this type of noise may be sticks, ice, or debris in the heat pump. Once the interior of the heat pump becomes filled dirty, the fan will start to hit the objects and produce a banging sound. The easiest way to fix this issue is to remove the dirt, sticks, ice, and branches from the heat pump.
Please remove the objects in the heat pump to prevent damage to the fan. In some cases, the refrigerant pipe in the heat pump may become loose. To prevent a refrigerant leak, it's important to tighten the pipe. Do you notice a banging sound when your heat pump is activated? Immediately turn the heat pump off and give our staff a call at (484) 402-6043 to schedule a heating repair service.
RATTLING SOUNDS
Rattling noises can be caused by loose access panels. To resolve this problem, tighten the screws on the heat pump. If this does not fix the noise, we recommend inserting rubber cushions under the heat pump to eliminate the rattling and vibrations. On the other hand, the source of a rattling sound can be loose parts near the air handler. Do not attempt to disassemble the heat pump to tighten the interior parts. It only takes a single mistake to damage the air handler.
GRINDING NOISES
If your heat pump is producing a grinding and buzzing noise, you will need to inspect the coils and contractors in the heat pump for damage. On the other hand, a grinding or gurgling noise may be caused by a low supply of refrigerant Depending on the age of your heat pump, a grinding noise may be a sign of a damaged motor that needs to be replaced.
Once a motor is broken, you will be required to replace the entire heat pump system. We offer heating and air repair services in Coatesville, Newton Square, Upper Darby, Drexel Hill, and the surrounding areas of Pennsylvania. To eliminate surprises, our staff will provide you with a quote prior to beginning a repair on your heat pump.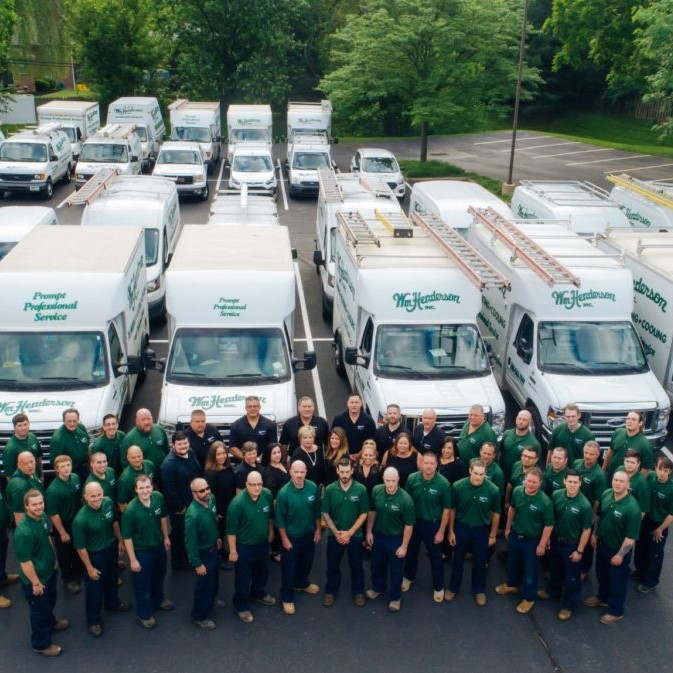 NEW OR OLD, OUR TEAM CAN HELP WITH YOUR HOME HEATING SYSTEM
When deciding which heat source is best for your home, there are many things to take into consideration. Let the team at Wm. Henderson help. Our HVAC professionals are available to repair, install, and answer your questions about home heating solutions. When you're in need of a reliable, friendly HVAC team call Wm. Henderson! We'll help you find the right heating repair or installation solution for your home.
Updates to the Regional HVAC Equipment Efficiency and Testing Standards
What Is Forced Air Heating?
What Is a 2 Stage Furnace?
What Size Furnace Do I Need?
Why Is My Furnace Not Working?
Why Is My Furnace Blowing Cold Air?
Call us at 1-484-206-8594 for fast, reliable emergency Heating services! Find your local WM Henderson today for fast, reliable emergency Heating services in your area!