Heating Repair & Installation Services in West Chester & Other Areas of Pennsylvania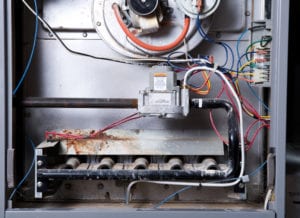 While a home's heating system is often out of sight and out of mind, when the furnace, boiler or heat pump fails, fixing it becomes top of mind. Whether your home's heating system is in need of repair or replacement, contact the team at Wm. Henderson. Our skilled HVAC technicians provide heating repair and installation services to homes in areas of Pennsylvania such as Coatesville, West Chester, Conshohocken, and Broomall. We will work tirelessly to bring warmth back to your home.  
Gas Furnaces
Gas furnaces offer some of the highest efficiency ratings when compared to other home heating options. With a lifespan between 15 and 20 years, a gas furnace will work to efficiently heat your home for years to come. We offer gas heating repair, tune-up, and installation services near you in Pennsylvania. Give us a call by phone at (484) 206-8594 to receive help.
One of the most popular options for heating, gas furnaces come in two main categories: conventional and condensing. Learn more about what these categories mean and how they might work for your home:
Conventional Gas Furnaces
Conventional gas furnaces burn gas through a single heat exchanger. The heat that remains then escapes safely through a chimney to the outdoors.
Condensing Gas Furnaces
Condensing gas furnaces utilize a secondary exchanger which collects the excess heat and uses it for heating the home. These furnaces have a higher efficiency rating when compared to conventional gas furnaces.
Along with different heating categories, gas furnaces come in three different operating types. These types include: 
Gas Furnace Operating Types
Single-Stage Gas Furnaces
Single-stage furnaces have a single gas valve that opens and closes allowing gas to flow at a single rate. Operating on a single, high flow rate, these types of furnaces are less efficient than two-stage systems. 
Two-Stage Gas Furnaces
Two-stage furnaces have two capacities in which they operate: low and high. To conserve energy, they operate on low most of the time and only kick into high when temperatures lower significantly. Operating in this way means two-stage furnaces are more efficient and offer consistent heat flow. 
Modulating Gas Furnaces
With the highest efficiency ratings available, modulating furnaces continuously adjust the gas output based on up-to-the-minute reports on the temperature within the home. This continual monitoring and adjusting provide consistent heat throughout the home. Our team of heating contractors is able to replace an outdated system with a modulating gas furnace or perform a heating repair on this type of system.
Electric Furnaces
Electric furnaces use electricity to heat coils within the furnace system. Once the coils heat up, the system pushes air through the coils, heating it and sending it throughout the home. 
Electric furnaces tend to be cheaper to purchase than gas furnaces and are less expensive to install. They often last a few years longer than gas furnaces with an average lifespan of 20-30 years. But, one thing to consider when making a decision for your home is the cost to run the furnace. Electricity is much more expensive than natural gas, meaning your monthly heating bill will be higher with an electric furnace. 
Boilers
Boilers are closed systems consisting of a heating element that heats water, distributing it throughout the home. WM Henderson offers boiler and heating repair or installation services to homes in West Chester and other areas of Pennsylvania. Homes with boilers use one of the following methods for distributing heat:
Radiators

Baseboard Heating Units

Convectors

Radiant Heat Systems
Types of Boilers Available
When choosing a boiler for your home, there are a few options to choose from. Below, we've outlined the types of boilers available to you:
Steam Boilers
Steam boilers rely on a heat exchanger to heat the internal water past the boiling point, distributing steam throughout the system as a means to heat the home.
Hot Water Boilers
Hot water boilers also utilize a heat exchanger and heat water to a high temperature, but not to boiling. This heated water is then distributed throughout the home where it passes through radiators, sending heat into the home.
After deciding between steam or hot water boiler, next you must decide which fuel source is best for your home. Your options include:
Natural Gas 

Electricity

Oil
If your home's boiler is in need of repair, or you're thinking of installing a boiler in your home, call the heating contractors at Wm. Henderson. Our team of skilled HVAC technicians has the tools and knowledge needed to perform all types of heating repairs and replacements.
Heat Pumps
Heat pumps use a compressor and circulating refrigerant to pump heat from one place to another. Within this closed system, heat is extracted from outside sources and pumped indoors. While heat pumps require less maintenance and have a lower running cost than traditional furnaces, they come with a higher upfront cost and require significant work to your home and property.
If you're interested in learning more about installing a heat pump in your home, contact Wm. Henderson. Our team provides heating repair and installation services near you. 
New Or Old, Our Team Can Help With Your Home Heating System
When deciding which heat source is best for your home, there are many things to take into consideration. Let the team at Wm. Henderson help. Our HVAC professionals are available to repair, install, and answer your questions about home heating solutions. When you're in need of a reliable, friendly HVAC team call Wm. Henderson! We'll help you find the right heating repair or installation solution for your home.
Frequently Asked Questions (FAQ's)
Comments are closed.