Air Conditioning Services
Maintaining the perfect temperature and humidity balance in your home is the key to keeping it nice and comfortable all year long. Our team of technicians provide reliable air conditioning services for homes in areas of Pennsylvania such as Philadelphia, Wayne, West Chester, Havertown, Broomall, and Drexel Hill. Give our staff a call by phone at (484) 206-8594 to receive assistance with a broken air conditioner that is distributing warm air in your house.
CENTRAL AIR CONDITIONING SERVICES
Central air conditioning allows us to cool our homes and remove humidity from the air. Without these systems, those summer heat waves would be a lot less bearable. Our heating and cooling repair services include support for all types of central air conditioning systems.
COMMON CENTRAL AIR CONDITIONER ISSUES 
Central air conditioners are often used for the summer season while sitting dormant during the winter months. This infrequent use, coupled with system aging, can cause problems to arise. If your air conditioning unit is acting up or no longer working, you may be experiencing one of the following issues:
BROKEN CAPACITORS
Capacitors provide the jolts of power needed to run the fans and keep them running. When these are not working, the motors that turn the fans will no longer work. Our heating and cooling repair services in West Chester and other areas of Pennsylvania include options to replace malfunctioning components.
MALFUNCTIONING COMPRESSORS
Compressors send refrigerant through the coils, allowing them to provide cool air to your home. When the compressors are malfunctioning, little to no cool air will come out of your central air conditioning system.
CORRODED EVAPORATOR COILS
If the evaporator coils in your central air conditioning system are corroded, the system will no longer provide your home with cool air. This can happen due to moisture build-up on the coils. Our heating and cooling experts near you can repair or replace your evaporator coils to keep your home cold throughout the summer season.
DIRTY CONDENSER COILS 
Dirt and grime can build up on the condenser coils causing your system to run inefficiently or not at all. Periodically checking and removing dirt from these coils can help your system last longer.
WORN OUT CONTACTORS
Contactors are the spaces between electrical pairings that help provide power. When these are worn out, the power needed to run the AC unit will not properly flow. Homeowners in Philadelphia and other areas of Pennsylvania rely on our affordable heating and cooling solutions to replace broken parts in their system.
Central air conditioners are closed-loop systems that require a professional repair technician for proper service. If you suspect your central air conditioning system is in need of repair, call the professional service team at Wm. Henderson.
HEAT PUMP REPAIR AND INSTALLATION SERVICES
Heat pumps can provide a home with both hot and cold air, removing the need for separate heating and cooling systems. Heat pumps are one of the most energy-efficient ways to heat and cool a home. Our HVAC and air conditioning services near you include heat pump repair and installation options.
HOW DO HEAT PUMPS WORK?
Heat pumps work through the transfer of heat. Through a series of water-filled pipes located within the ground, heat pumps provide heat to the home by transferring warm air from outside of the home to the inside. To cool the home, these pumps work in reverse, replacing warm air in the home with cooler air outside.
COMMON HEAT PUMP ISSUES & HOW TO FIX THEM
Like any HVAC system, as heat pumps age, the internal components can break down, requiring repair or replacement. Common heat pump issues to be aware of include:
BROKEN STARTER CAPACITOR
The starter capacitor turns on your heat pump system, allowing it to run. If, when you attempt to turn your heat pump on, you hear a faint clicking noise, there may be an issue with the starter capacitor.
MALFUNCTIONING REVERSING VALVE
The reversing valve allows your heat pump to switch between heating and cooling your home. If your heat pump is able to cool your home, but is unable to heat it, call a heating and cooling repair technician on our team to fix the reversing valve.
BROKEN COMPRESSOR CONTACTOR
The compressor contractor controls how much power goes to the heat pump. If this is broken, the heat pump may continually run, wasting energy and increasing your utility bills.
DIRTY AIR FILTER
Air filters catch dirt and debris before they make their way into our home's air supply. Dirty air filters impede airflow and can cause heat pumps to work harder and push out less air. Be sure to check your filter often and clean or replace it when necessary.
If your heat pump is in need of repair, schedule an HVAC appointment with the team at WM Henderson. You can count on our team for expert repair and installation services!
CENTRAL HUMIDIFIERS 
Sick of that cracked, dry feeling you get when winter hits? Then now's the time to invest in a central home humidifier. Central humidifiers allow homeowners to set the perfect humidity level for their home, relieving dry skin and promoting better sleep all year round. WM Henderson provides humidifier repair, replacement, and installation services to homes in West Chester and other areas of Pennsylvania.
BENEFITS OF A CENTRAL HUMIDIFIER
Very dry air can negatively impact your family's health. Installing a central humidifier in your home can improve your family's health in the following ways:
Relieves Congestion
Prevents Dry Skin
Alleviates Snoring
Helps Sleep Apnea
When you're ready to find relief, Wm. Henderson is here to help! Our team has the knowledge and skills necessary to solve your air conditioning repair problem. We will help you install an energy-efficient central humidifier within your current HVAC system. Contact us today!
ZONE CONTROLLED HEATING & COOLING
Are some areas of your home warmer than others in the summer or cooler in the winter? If you have a larger or multi-level home, you may benefit from the installation of a zone-controlled heating and cooling system.
With a zone-controlled system, you'll be able to adjust and control the temperature of each "zone" individually, maximizing comfort and lowering energy costs. WM Henderson provides zone control HVAC services for homes in Conshohocken and other areas of Pennsylvania.
Zone-controlled systems consist of a central control panel, dampers, and thermostats. The dampers are strategically placed within the HVAC ductwork and can be adjusted as needed based on the information sent to them from the thermostats located within the different zones of your home. The central control panel allows homeowners to adjust the zone's different thermostats as needed.
BENEFITS OF ZONE-CONTROLLED SYSTEMS
For larger, multi-level homes, zone-controlled heating and cooling systems offer attractive benefits including:
TEMPERATURE CONTROL
Control the comfort of your home by installing a zone-controlled system. Zone heating allows you to provide consistent temperatures throughout the home, ensuring each space in your home is as comfortable as the next.
ENERGY SAVINGS
Our HVAC systems work hard to provide a consistent temperature throughout our homes. With zone-controlled systems, you can decide which sections of your home to heat and cool, saving money in areas that may not often be used.
Could your home benefit from the installation of a zone-controlled heating and cooling system? Let the team at Wm. Henderson help you decide! Our team of experienced HVAC technicians will walk you through the best options for your home. If a zoned system is right for you, we have what it takes to install a system in your home. Contact us today!
WM Henderson provides dependable zone-controlled system and air conditioner services near you in areas of Pennsylvania such as Broomall, West Chester, Philadelphia, Wayne, Brookhaven, and Havertown. When you choose to book an appointment with our team, you will be in good hands!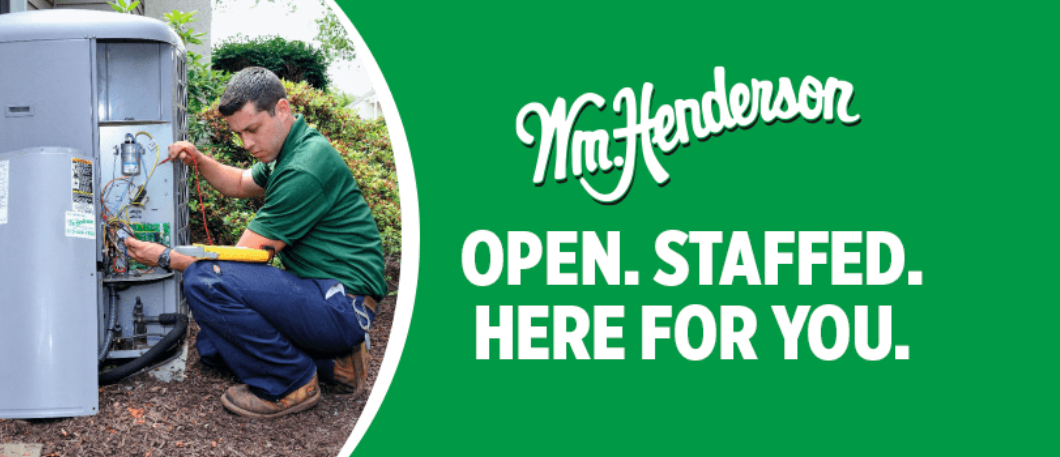 AIR CONDITIONING SERVICES IN PHILADELPHIA, PA AND OTHER AREAS
Routine AC maintenance can help prevent breakdowns and unnecessary repairs, and a majority of service calls can be prevented through proper maintenance. Our preventative maintenance agreement is designed to fit your needs. Depending on the plan you choose for your air conditioning equipment, our qualified technicians will come to your home before the season and service your system. You receive these benefits:
Peace of mind
Energy savings
Extended equipment life
Preventive maintenance
Records of equipment history
Updates to the Regional HVAC Equipment Efficiency and Testing Standards
Call us at 1-484-206-8594 for fast, reliable emergency AC services! Find your local WM Henderson today for fast, reliable emergency AC services in your area!