Emergency Plumbers, Electricians, and HVAC Repair Services in Brookhaven, PA
At any moment, your home could fall victim to plumbing, electrical, or HVAC issues. Your pipes could freeze, an electric outlet could stop working, or your air conditioning system could stop cooling the air. When this happens, the professionals at WM Henderson are there for you. Our team of emergency plumbers and technicians offer comprehensive plumbing, heating, air conditioning, and electrical repair services for homes in Brookhaven, PA. Give us a call at (484) 206-8594 to receive assistance with a plumbing or HVAC issue in your house.
We've been in this industry since 1977 and have built up a reputation for quality work. While we are here for any issues you have during regular business hours, we can also serve as your emergency electrician or plumber. For urgent matters, you can reach us 24/7. So, if something goes wrong and you need help immediately, we will be there for you.
Plumbing Repair Services
Every homeowner should take plumbing seriously. A problem with your plumbing can prevent your water from working or could flood your home. This is why we strive to provide the best plumbing services possible. Our staff of plumbers will work to diagnose the problem with your system, as it might not be immediately obvious. Next, we will get to work on repairing it immediately. Once we're done, you will be able to rest easy knowing that the plumbing system in your home is no longer in danger.
Water Heater Repair and Installation Services in Brookhaven, PA
To ensure that your water heater operates at optimal efficiency, it's important to address any potential issues with proper repair or replacement services. Inefficient water heaters waste energy and may fail to heat water effectively.
Our team of local plumbers in Brookhaven, PA offer exceptional hot water heater installation and repair services for homeowners. Let us help you maintain your water heater at peak performance to avoid unnecessary energy costs and ensure reliable hot water.
Our water heater repair services will fix any issue with your system. This will have it providing you with hot water at the level you want it. Meanwhile, our installation and replacement services will help you deal with a system that is past its prime. We will help you get a new system to replace an aging one or a unit that has completely failed for whatever reason.
Water Line Repair Services
The water lines in your home are the essential connection that supplies water from its source to your house. Unfortunately, this vital link can be easily damaged by natural elements, plant growth, and the passage of time. Protect your house from the negative consequences of a water leak by being vigilant about pipe maintenance and repair.
Our staff of emergency plumbers provide dependable water and sewer line repair services and have the tools necessary to fix small to large water leaks in your living space. We will fix pipes that have frozen over, clear out pipes that have been invaded by plant roots, and provide repairs on older plumbing systems. All of these can get your water line back up and running again. When it comes to an issue with pipes, we have the tools and knowledge to address it.
Furnace Repair and Installation Services in Brookhaven, PA
A furnace with problems can be an absolute nightmare. It can lead to high energy bills, improper heat distribution, and many other issues. It can also leave your home freezing cold when you need heat the most. We know this because we have seen it all and fixed it all before.
Our team provides reputable HVAC repair services in Brookhaven, PA and has the skills required to fix a variety of different types of furnaces. We take our years of experience working with and fixing furnaces to every job we work on. This allows us to work on many types of furnaces and to provide a quality service while doing so. We provide whatever kind of furnace repair you need and can even install a new furnace if necessary.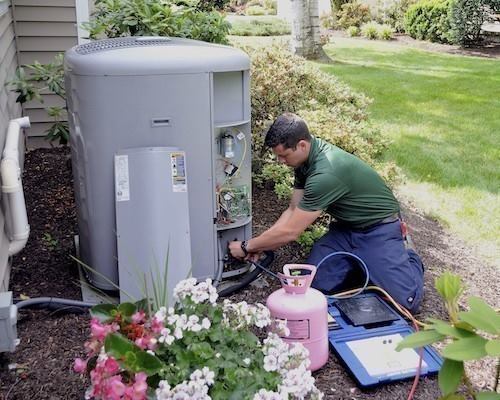 Air Conditioning Repair and Installation Services
We also offer a wide range of air conditioning repair and air conditioning installation services. Our professionals fix any air conditioning issue you can throw at us, from an air conditioner that is dripping water to a complete shutdown.
We also offer tune-ups, so you can keep your air conditioner well-maintained. We can complete the installation with a professional touch if you need a new air conditioner. Our HVAC repair services are designed to help keep you cool throughout the summer season.
Electrical Inspection and Repair Services in Brookhaven, PA
Electrical repair covers many different electrical services. These services include fixing problems with outlets, replacing electrical panels, redoing the wiring, updating the system for new appliances, and expanding the capabilities of your system.
Our team of emergency electricians in Brookhaven, PA offer innovative electrical inspection and repair services for homes. We go beyond what you may typically think of and offer services that have only recently become a factor, like installing a charger for your electric vehicle (EV). Basically, when it comes to any electrical services you could need, we will be there to help.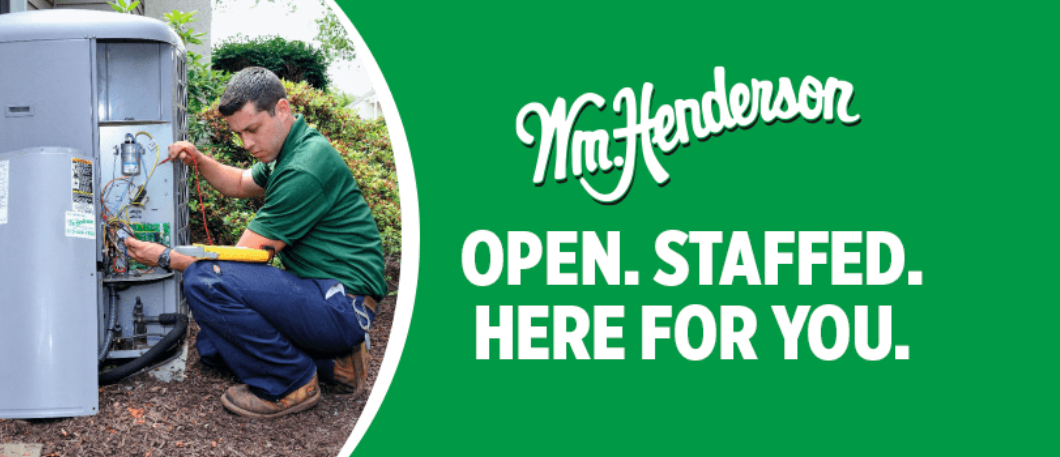 Plumbing, HVAC, and Electrical Repair Services for Homes in Brookhaven, PA
Whether you need an emergency plumber or routine HVAC or electrical repair services, the team at WM Henderson has you covered.
Our staff will work on issues running from small leaks to large HVAC problems. In addition to addressing major HVAC repair and replacement needs, we can handle a wide range of services, from smaller repairs to routine maintenance. Our diverse skill set sets us apart from the competition and enables us to serve the people of Brookhaven, PA, with dedication and hard work. Give our team a call at (484) 206-8594 to schedule an appointment.
If you need help with a plumbing, heating, air conditioning, or electrical issue in your house, give our team a call at (484) 206-8594 to book an appointment.