DRAIN CLEANING & SEWER CAMERA INSPECTION SERVICES
The skilled plumbers at WM Henderson maintain your plumbing system by eliminating clogs in your drains. Our drain cleaning services include sewer camera inspections to help you avoid backups and costly pipe repairs. When you need a repair, we've got you covered with expert plumbing solutions.
Our team of certified technicians offer exceptional drain cleaning solutions for homeowners in areas of Pennsylvania such as Havertown, Wayne, Broomall, Philadelphia, Drexel Hill, and Ardmore. To receive help with a blockage in your pipes, give our professional plumbers a call by phone at (484) 206-8594 or book an appointment online.
Video Camera Pipe Inspection Services
Our video camera pipe inspection services stop drain clogs at the source. Our expert plumbers also check your drain lines for tree root obstructions and other drain problems preventing proper drainage. Here is what our technicians do to carry out a video camera pipe inspection.
Camera Pipe Inspection Process
Insert a miniature camera into the clogged drain or pipe
Inspect the drain
Perform necessary repairs
Advantages of Camera Sewer Inspections
Sewer camera inspections enable us to address and fix various drain issues to make your life easier. Here are the advantages of scheduling camera inspections and drain cleaning services with our licensed plumbers:
Locating clogs and blockages
Fast and effective drain and sewer inspections
Diagnosing slow drains or backups
Leak detection and repair
Locating tree root intrusion
Pinpointing the location of cracks or holes in pipes
How Power Rodding Works
If you are struggling to eliminate a blockage in your drain with a plumbing snake, book an appointment with our licensed plumbers. Our technicians offer innovative drain clearing services and will use a power rod to remove the clog in your pipes. A power rod works like a plumbing snake but is a much more powerful tool. Additionally, plumbing snakes require manual operation while a power rod features an electric motor.
A cutting head located at the end of the power rod rotates during operation to break up clogs into smaller pieces. A benefit to power rodding is that you can switch out the cutting head type based on what is causing the drain blockage. This enables the device to take a more targeted approach and provide the best solution.
6 Causes of Clogged Drains
The first step to fixing a drain clog is identifying its cause. Check out our list of the top six causes of clogged drains.
1. Hair
Hair clogs are especially prevalent in shower and bathtub drains. After all, that is where we wash our hair. Hair collects in the drain over time and mixes with other clogging materials, which expands the blockage.
2. Soap
Soap residue builds up due to frequent use and narrows the drain line. This makes it more difficult for water to pass through as it should. Like hair, soap can mix with other substances and exacerbate the problem.
3. Dirt
Be careful when washing dirt in the shower, bathtub, or sink. Since dirt doesn't break down easily, it builds up in your drains and forms blockages.
4. Oil, Grease, & Fat
You should never pour oil, grease, or fat down your drain. Oil and grease turn from liquids to solids after entering the drain and block water flow. Before cleaning dishes containing these substances, move the oil and grease into a separate container to prevent clogs in your pipes.
Our certified plumbers offer exceptional drain cleaning services and video camera inspections for homes in areas of Pennsylvania such as Ardmore, Wayne, Springfield, Havertown, Broomall, Upper Darby, and Drexel Hill. Our team has the tools and skills necessary to remove oil and grease in your drain.
5. Food
However small, tossing food scraps down your sink drain here and there adds up. The food pieces collect over time and clog your drain.
6. Wipes
Don't flush anything other than toilet paper down the toilet. Objects such as toilet paper clog the pipe instantly when flushed. If you have older pipes or experience frequent clogs, avoid using quilted toilet paper. This thicker option doesn't pass through the drain properly.
Possible solutions to these drain problems include:
Plunging the drain
Using a plumbing snake
Pouring either a commercial or natural drain cleaner down the drain
Pressure cleaning the drain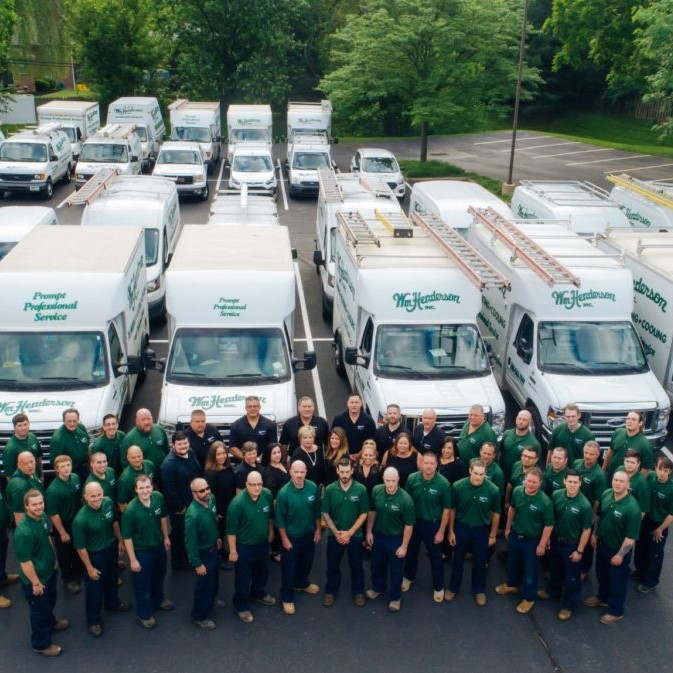 Drain Cleaning Solutions In Philadelphia, PA and Other Areas
The licensed plumbers at WM Henderson provide homeowners throughout Pennsylvania with prompt and professional drain cleaning services. Our technicians provide fast and convenient drain cleaning solutions in areas such as Broomall, West Chester, Wayne, Philadelphia, Havertown, New Castle, and Ardmore. Whether you experience drain problems during the day or late at night, we will restore complete home comfort with our 24-hour emergency services.
If you need help fixing a clogged drain in your home, give our team a call by phone at (484) 206-8594 to schedule an appointment.