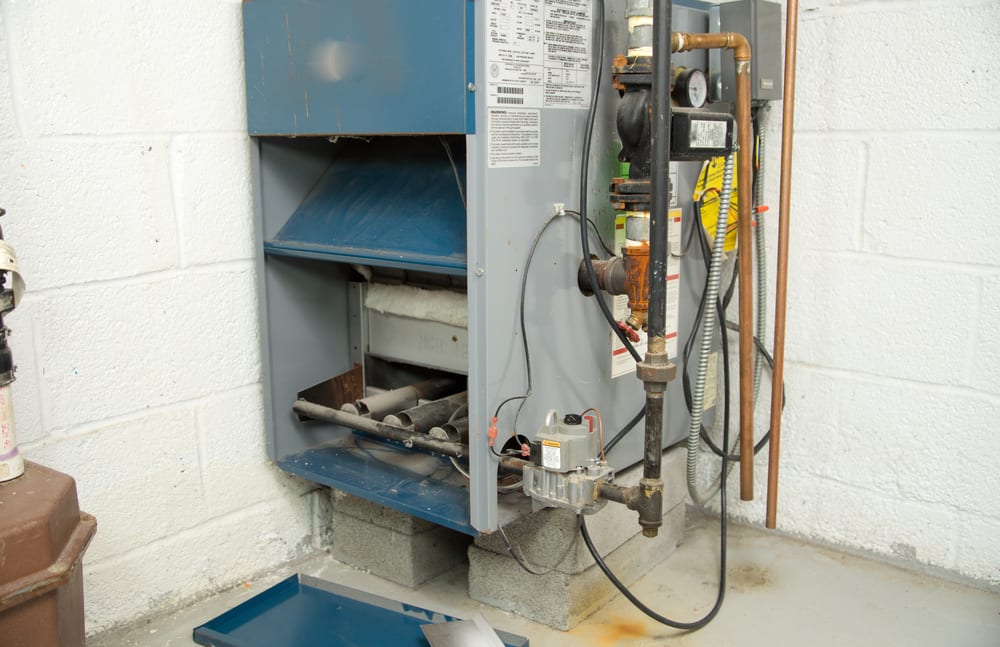 One of the big questions a homeowner may encounter is whether or not to stop repairing a heating system and instead replace a furnace. We won't pretend there's an easy answer to this question—we certainly can't make a broad generalization for all furnaces. However, we can provide you with some tips to help you decide when to replace your furnace.
From the age of the system, sudden temperature changes, costly operating costs, to loud noises, there are various signs it's time to replace your old furnace with a new energy efficient system. When you need to make a solid decision about a furnace replacement, call a licensed technician in your area to discuss the latest energy-efficient furnaces on the market.
Signs It's Time to Replace a Furnace
Your Furnace Is Between 15 – 30 Years Old
How long does a traditional furnace last? An average furnace is designed to operate for 15 to 30 years in a home. The easiest way to increase the life cycle of your furnace is to hire a certified technician to perform maintenance and repairs once a year. However, it is recommended to begin searching for a furnace replacement 15 years after the initial installation. The lifespan of an old furnace is also dependent on the type of fuel it utilizes to heat your home.
Many homeowners choose to install a new electric furnace instead of repairing an old gas system because they boast a long average lifespan of 20 – 30 years. On the other hand, a gas furnace is engineered with a lifespan of 15 – 20 years. Although new gas furnaces have a lower lifespan, they cost less money to operate when compared to new electric furnaces. In addition, gas furnaces are able to heat your home at a faster rate when compared to electric systems.
Read More: Advantages of Ultraviolet HVAC Lights
There are a variety of ways to prolong the lifespan of your old furnace. We recommend continuously replacing dirty filters in your furnace to ensure it is operating properly. Another way to improve the temperature of your home without replacing a furnace is to seal the windows and doors in your home to prevent heat from escaping. You may also want to consider investing in a programmable thermostat to enhance the efficiency of your furnace.
Furnace is Producing Loud Noises During Standard Operation
There are various noises that may indicate it's time to repair or replace your old furnace. Are you wondering when to perform a furnace replacement? Common noises such as rattling, popping, humming, and screeching are signs you need a new furnace. You may also want to consider switching from a furnace to another heating source such as boilers, heat pumps, or ductless mini-split systems to save money on your utility bills.
Furnace Noises
Popping: This is caused by fluctuations in temperature within your furnace. The popping noise is caused by parts that are affected by the temperature change
Rattling: A rattling sound may be caused by loose ducts or equipment. Contact a professional HVAC contractor to discuss if it's time to replace your furnace
Screeching: This type of noise indicates a damaged furnace blower motor. However, it can also be caused by a damaged belt or the pulley on your old furnace
Humming: This sound is caused by the furnace blower motor throughout standard operation. If this noise is becoming noticeably loud, this is an indicator its time to invest in a new furnace
Clicking: A clicking noise may indicate your flame sensor or igniter needs to be fixed. Luckily, this type of sound is common and is often able to be fixed by performing a standard furnace repair
Booming: A booming sound may be a sign of a severe gas emission issue with your furnace. This noise is often caused by a brief delay during the ignition process. However, a lingering gas odor smell is a clear indicator that it's time to hire a professional to perform a furnace replacement in your home.
Temperature Fluctuations Throughout the Home
Are you wondering when it's time to replace your furnace? Sudden changes in temperature between varying rooms of your home are a clear sign it's time consult with a licensed contractor about performing a repair. On the other hand, noticeable temperature shifts can be a sign it's time to start researching new furnaces. Once an old furnace reaches it's 15 year mark, it will slowly start to become less efficient and will lose its ability to distribute heat evenly throughout the upper and lower floors of your home.
Read More: Ways to Save Money on Air Conditioning Bills
Soot is Collecting Near the Furnace Register
If you own a home, you are aware of how unpleasant it may be to find soot or dust lingering throughout your kitchen, bathrooms, or bedrooms. Soot and dust is usually accompanied by dry air in the home that can potentially damage wood flooring, couches, chairs, or shelves. If you notice dead plants in your house, this is a sign of a low amount of moisture in the air.
Excess dust and soot throughout the home is an indication that your old furnace is producing too much Carbon Dioxide. This soot buildup is commonly found near the furnace register and grille. A register is an air duct cover that is able to regulate airflow throughout the home. If you notice dirt or soot around the furnace register, this is a common warning it's time to hire a professional to perform a furnace replacement in your home.
High Energy Bills & Furnace Repair Costs
After a furnace reaches its peak lifespan of 15 years, it becomes harder for the system to evenly distribute heat throughout your home. This causes a huge spike in your energy bills each month. If you're wondering when its time to perform a furnace replacement, take a look at the total cost of your next repair.
If the total cost of the repair project is more than half the cost of putting in a new furnace, it's time to replace your system with a new model. If you are having issues with your furnace, now is the time to consider switching to another type of heating option, such as radiant heating, Mitsubishi ductless, or zone control systems.
If you have a furnace in service for 10 years or less, it's recommended to perform a repair on your old furnace to fix common issues. You can use a simple calculation to give you a sense of when a furnace repair is worth it: multiply the cost of the repair by the age of the furnace, and if the result is less than 5,000, the repair isn't too expensive. For example, if you have a furnace that's 7 years old, and it needs some fixes to its burners that costs $400, the repair is probably worth it. (7 x 400 = 2,800.)
Read More: What is a Condensing Furnace? Advantages & Applications
Furnace Flames Are Yellow Instead of Blue
A new efficient furnace will always produce a clean blue flame to heat your home. If the flames coming from the burners are yellow, is may be an indicator that your old furnace is producing carbon monoxide. Yellow flames may also be a sign of a dangerous gas leak that needs to be repaired or an improper combustion process. If you notice yellow flames in your old furnace accompanied by a gas odor, immediately give us a call by phone at (484) 206-8594 or schedule an appointment online.

Heating Repair & Installation Services
If you're already shelling out annually to fix your old furnace, you can put a stop to those extra fees right away with a furnace replacement. WM Henderson offers a variety of HVAC repair services such as furnace installation, boiler replacement, heat pump installation, and furnace repair.
Our team of licensed HVAC technicians and plumbers are also trained to fix broken air conditioners and water heater leaks. Schedule an appointment to receive assistance today. Wm. Henderson serves Delaware County & The Main Line, PA.
Categories: