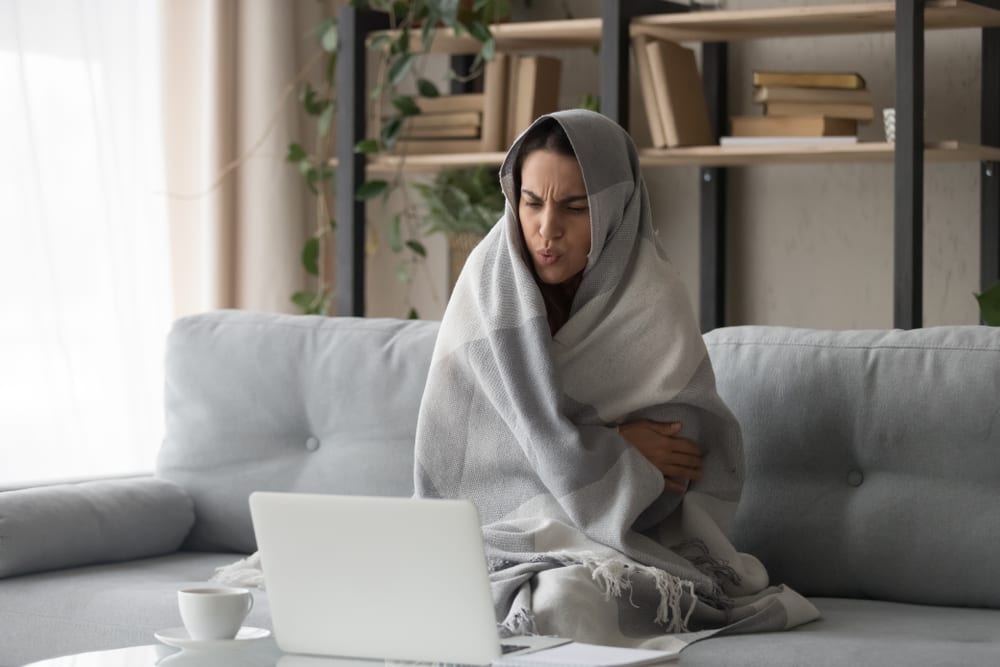 You want your household heating system to provide enough warmth to raise the indoor temperature to a comfortable level. That's just what a heating system is for! But the amount of heat isn't the whole story. Properly providing comfort to a home requires moving the heat around to the different rooms.
If some rooms are getting too hot while others feel like freezers, it's called uneven heating—and it's not fun. Unfortunately, it's a common problem people encounter, and it often calls for professional HVAC services. Below, we're going to look into some of the reasons your house is experiencing uneven heating.
Why Is My House Cold? Common Causes of Inadequate Heat
Damaged Zone Controls
If your home has a zone control system installed to regulate which rooms receive heated air, uneven heating often indicates the controls have malfunctioned. An ordinary cause of heating problems in houses are damaged dampers in air ducts. If a damper becomes stick open or closed, the distribution of warm air will be negatively impacted. Or one of the local thermostats monitoring temperatures in the rooms may have broken so it isn't signaling the central thermostat to send heat its way. A professional can perform an inspection to confirm the source of the uneven heating issue in your home.
Leaking Ductwork
Once you confirm your heater is working properly, it's time to perform an inspection of the air ducts. The reason your house is not heating up may be a leak or break in the ductwork. This is a common cause of uneven heating in homes that we frequently see, and up to 30% of the heated air moving through a ventilation system can escape because of these leaks. So not only are you receiving uneven heating, you're paying extra to heat air that isn't going into the house. Let our technicians handle the duct repairs services to correct this.
Clogged Air Filters
This is a basic problem you can correct yourself—as well as prevent in the future. The air filter in your forced-air system, such as a furnace or a heat pump, collects dust and dirt over time. If your heater is not blowing hot air, this is an indicator of a clogged air filter. This issue will throttle airflow into the system and create heating problems. Less airflow causes uneven heating, with the most distant rooms receiving the least amount of heat. Replace the filter with a clean one, and do this every 1 to 3 months to ensure the heater always has an uncongested filter.
Read More: What is a Furnace Flue Pipe Used For?
Short-Cycling Heating System
Short-cycling is when a heating system shuts on and off faster than it can complete a heating cycle. There are many reasons why this type of problem may happen. However, it's important to be aware that a short cycling issue will prevent your heater from operating long enough to distribute hot air evenly throughout the house. If you notice the heater turning on and off repeatedly during an hour, call HVAC technicians right away. Short-cycling creates numerous troubles for a heater and needs to be fixed ASAP.
A Dying Heater
The Big One—your heating system may be losing its heating power in its old age. Heaters older than 15 years may begin to fail and produce a lower heat output. Uneven heating is an early indication this is occurring. Have HVAC experts analyze the heater and give you a diagnosis to confirm why the heating system is not blowing hot air. A licensed technician can advise you on whether repairs can keep the heater alive or if it's more cost-effective to replace it.
HVAC Repair & Install Services Near You
We offer dependable HVAC services for malfunctioning furnaces, broken heat pumps, and inefficient air conditioners. Give us a call by phone at (484) 206-8594 or book an appointment online to receive assistance. WM Henderson offers heating and cooling repair services to homes in areas of Pennsylvania such as Conshohocken, Broomall, Coatesville, and West Chester. Call our team today to receive assistance! Our team of licensed technicians is trained to fix broken air conditioner compressors, inefficient heat pumps, and contaminated gas burners.
Read More: What is a Comfortable Humidity Level to Maintain in a Home?
Categories: