Whole–House Generator Systems & Service
During the storm season, homes are at a risk of suffering from extended power losses. This is not only inconvenient and uncomfortable, it can often be dangerous—especially if there are people in a house who depend on powered medical equipment. The best way to defend your home from the many problems that can stem from a blackout is to have a backup generator professionally installed and regularly serviced.
Wm. Henderson Plumbing, Heating & Cooling Inc. is proud to offer full service for whole-house generators. Our technicians will select the right unit to provide your home with the electrical power it needs in the case of an extended power outage. We also offer repair service for generators we have installed (as well as particular brands that were installed by others) and the crucial regular maintenance that will make certain your generator will operate as it should when the time comes. Trust to our nearly four decades of quality service whenever you need help with your generator.
The Advantages of Whole House Generators
Why should you have a whole–house generator installed, rather than rely on a smaller portable unit? The main reasons are power and reliability.
Portable units are useful for camping trips and for keeping in the car for use in emergencies. However, they simply do not have the necessary electrical voltage to provide power for a home during an outage, even if the home only needs to run a few appliances and lights. Since most long–term power losses occur during winter, keeping the heating system in a home running is paramount—and this requires a good deal of energy that only a well–installed backup generator can provide.
The reliability of a whole–house generator will give you important peace of mind during a power loss. This is particularly important if you have vital medical equipment in your house that needs to stay on. If you have a whole–house generator that was professionally installed and receives regular maintenance service, you should have no trouble weathering a long power outage in comfort and safet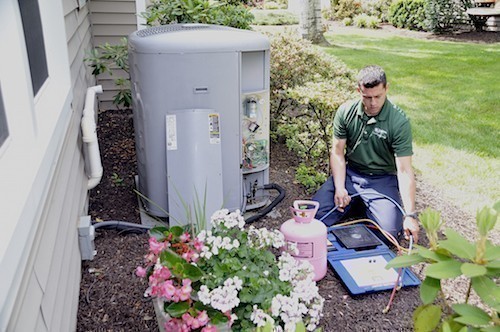 Our Generator Services
Wm. Henderson Plumbing, Heating & Cooling Inc. provides a full range of service for generators. Once we have installed a generator for your home, you can rely on us for any other work it may need. If you have already have a Honeywell or Generac generator that another contractor installed, we can provide repair and maintenance work for it. Call us today to find out more about our generator services.
Finding the right generator isn't a simple task. You have to make decisions about how much power is necessary for your home when the power goes out (lights, appliances, etc.) and what type of energy source is best for the generator. If you leave the job of generator selection to our professionals, you can rest easy that you will end up with the ideal unit. Our team can install the generator so that it will operate as it should and pose no safety hazards. We also offer convenient automatic standby generator models that will come on as soon as the power fails.
We offer repairs for any generator that we installed. If you have noticed your generator struggling with its job or have other suspicions that something is wrong with it, give our team a call. We will see that the unit is ready to work the next time you need it.
A generator that won't come when the power goes off isn't any good to you. That's why you must schedule annual maintenance for your system. We offer regular maintenance for units we installed, and this will give you the important reassurance that your power needs are protected in case of a blackout.
Comments are closed.